Posted by Jennifer on 2nd Mar 2014
(This post originally appeared on the old Paper Sushi blog, but it's so darn useful, we had to move it over here to make sure it was easy to find!)
Hello, friends! Jen here, with the first of a series of helpful info and tips to get the best imprints out of your lovely Paper Sushi stamps.
What kind of ink should I use? This might be one of the most common questions I get. The number one most important quality your ink should have is…quality. That's right! You will work very, very hard and never get quite the beautiful look you are going for if you start with an inferior ink. So, skip the low price brands and the convenient but low quality business stamp pads at your local office supply shop and start with virtually any ink made by ColorBox or Imagine Crafts (Versacraft, Versacolor, Encore, Versafine, Memento and a million other lines).
Both companies make a variety of different inks formulated for many different purposes. I exclusively carry Imagine Crafts' inks as the quality is impeccable, the hinged lids and raised beds make oversized stamps easier to work with and the variety of ink formulations for different projects can't be beat.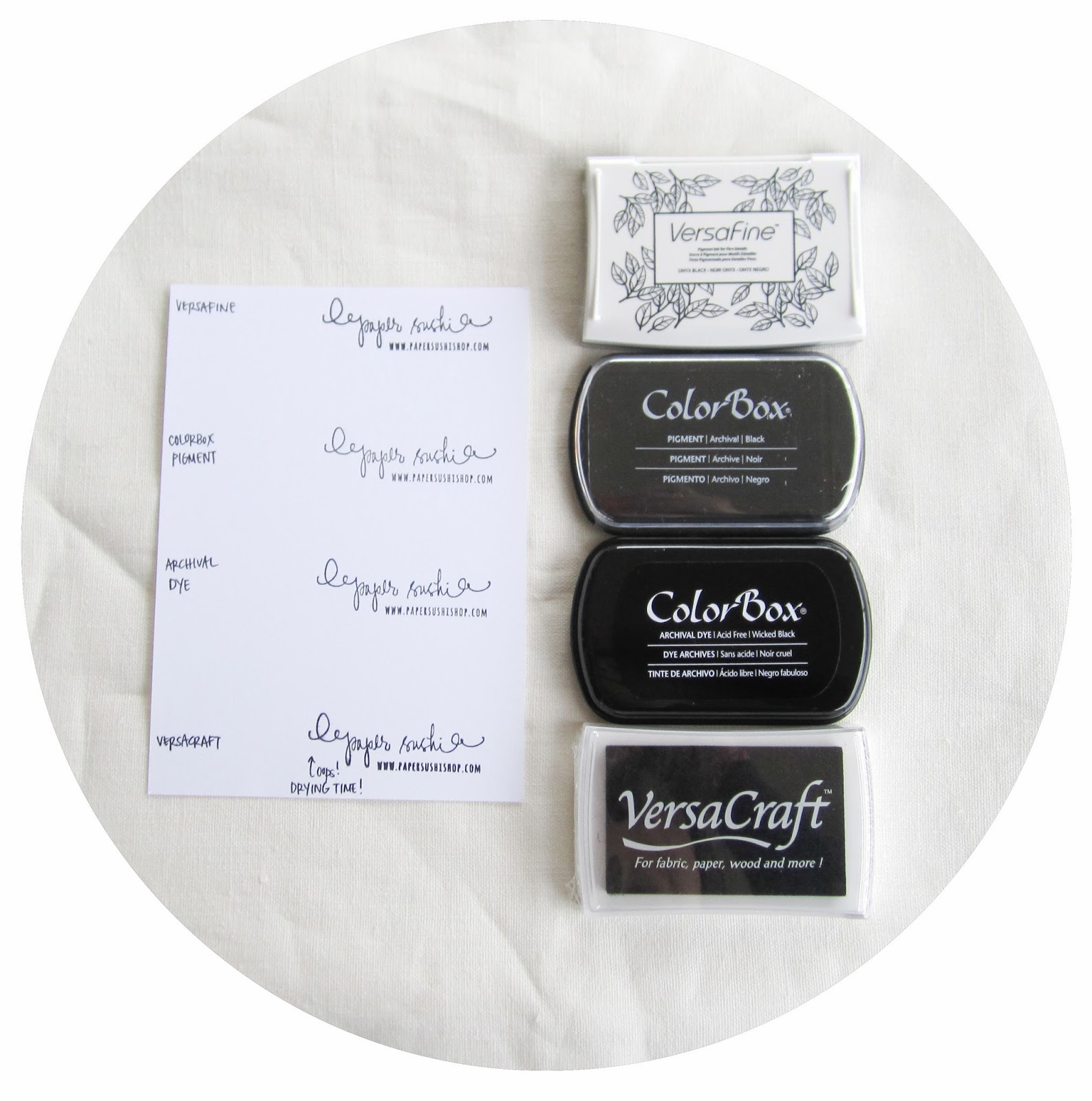 We'll start with one of my very favorites - pigment inks.
Pigment inks are formulated to sit on top of the surface you stamp on. This means that they give wonderfully richly colored imprints and they work very well for embossing. Because they don't absorb into the surface, they require some drying time. Stamping on matte paper with pigment inks is easiest, but they're quite versatile. Pigment inks can be used on glossy surfaces, like glassine, but a very steady hand and a LOT of drying time is required. They can also be used on most fabrics, though they will not withstand washing. I like to stamp the muslin bags I package stamps in with pigment inks!
The ink pad itself is spongy and porous because the ink is thicker in consistency. Colors are vivid and look similar on the pad itself and on the paper once stamped.
Pigment inks

are best for stamping on most papers, some fabrics and for embossing.
Archival dye inks absorb into the surface you are stamping on. This means they dry very quickly and are really easy to work with. They're permanent and tend to be somewhat waterproof once dry, but can fade in color over long periods of time. The ink pad itself is usually more dense, and will look much darker than the ink once stamped. Archival dyes should not be used on exceptionally absorbent papers, as they will tend to bleed. Please be aware that archival dyes will stain your stamp, especially clear stamps! Archival dye inks are best for stamping on matte papers and for projects like painting with watercolors over stamped images.
Versafine is a funny hybrid. It's a natural oil based pigment ink that dries very quickly and can have watercolors or markers drawn over it, once dry. It picks up very fine details exceptionally well. Versafine is best for stamps with small details and fine lines as well as projects that require less drying time.
Versacraft is formulated for non-paper surfaces like fabrics, woods, and other non-porous surfaces. Versacraft is the one you want if you'd like to stamp on wood slices or other similar projects. If you'd like your stamping to be colorfast (like these lovely stamped napkins that Alicia made), you'll need to heat set the imprint with an iron before washing. Versacraft is best for stamping on fabrics, wood and glassine.
Find all of Paper Sushi's favorite inks in the shop! Happy stamping, friends!