Posted by Jen on 16th Aug 2020
Stamping fabric is a versatile way to label your makes or embellish projects. We're here to help you sort out which inks to use for which projects, and how to prep and set your prints for best results!
The most important tip we can give you is to practice on scraps! Practice until you have a handle on the perfect amount of ink, practice until you know exactly how much pressure is perfect for your material, and practice steadying your hand so you don't get off and edge prints.
INKS
Now that we've got that established, let's take a look at the different ink options available. After extensive testing, we can definitively tell you is that there is no perfect ink for all fabrics. Our tests should be a good starting place, and we encourage you to see what works best with your favorite fabrics and process!
Versacraft - Versacraft is formulated for fabric and other surfaces. Versacraft is a pigment ink that settles nicely above the fabric for a great opaque print. It tends to perform better on natural fibers than slippery synthetics, but is a versatile ink! As it's on the thicker side, it can dry out more quickly than thinner inks and it's best to have refill inks on hand.
Memento Luxe - Memento Luxe is a juicy pigment ink. Like Versacraft, it's formulated for many surfaces including fabric. It is a great ink for bold imprints, and is available in a wide range of colors. Memento Luxe is a newer formulation for Tsukineko, and in our experiments it stood out as more universal than the other inks. It may not be the best ink for any fiber type, but it performs relatively well on all fiber types.
Palette Hybrid Ink - Palette is a hybrid ink meaning that it is meant to have the ability to soak into material like an dye but with the opacity of a pigment ink. While that soaking-in-ability can cause it to bleed through lighter materials, it definitely outperformed all other inks on many synthetic fibers.
Stazon - Stazon is a solvent ink formulated for closed pore surfaces like glass, metal, plastic, leather and ceramics. It is not recommended for fabric. But, I'm testing it anyway because this is my experiment. It's actually my ink of choice for stamping muslin bags, and it seems to be relatively washable!
While staying power is obviously a primary factor in selecting an ink for stamping on fabric, bleedthrough is also something to consider. Especially if you are stamping very lightweight, light in color fabrics, you may experience some bleedthrough to the other side. One option for compliance labeling is to stamp scrap fabric and then tuck the sides and sew it in like a tag.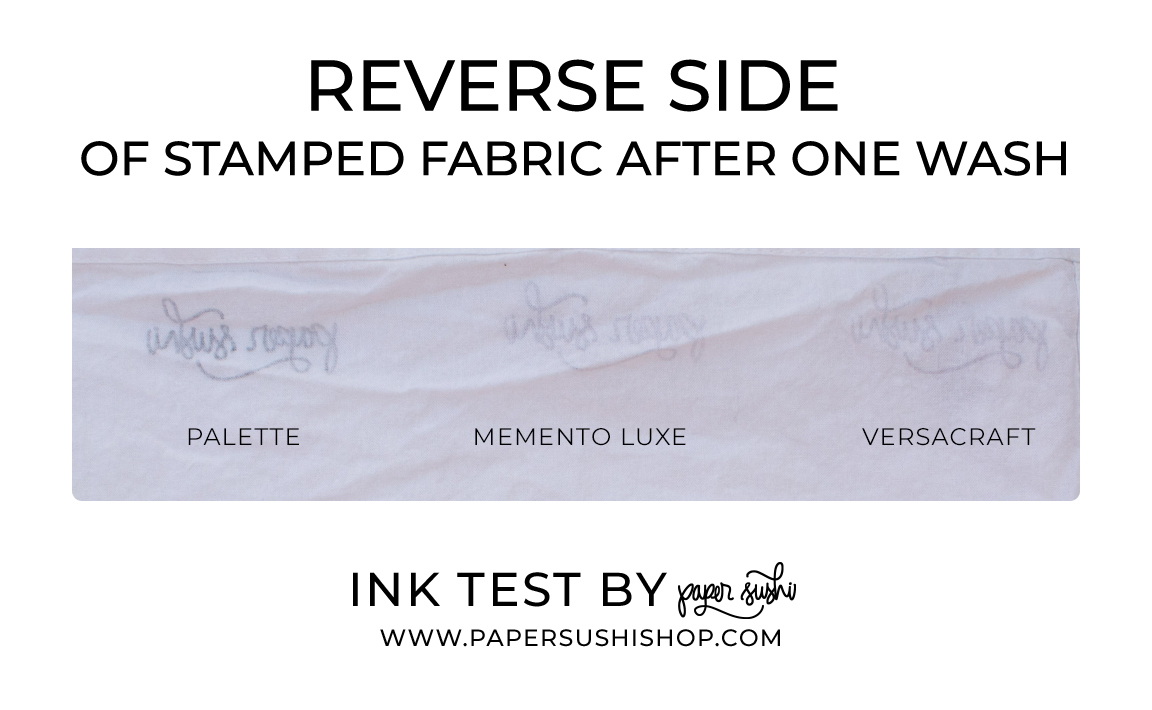 TECHNIQUE
As I mentioned above, it's really important to nail your technique on scrap fabric before attempting to stamp your finished products. The first thing to practice is inking. Start with a light hand! Especially when stamping fabric, it's very helpful to try to ink just the raised portions of the stamp and not the background. Pushing the stamp into the ink pad with a lot of pressure will get ink everywhere and make it much harder to not put ink everywhere when stamping. Tap lightly on the ink pad until the raised portions of the stamp are evenly covered. With especially juicy inks, it can be helpful to stamp off on scrap paper once lightly before stamping your fabric.
When printing, be sure to evenly distribute pressure so that you don't end up with one portion of the imprint darker than others or double prints. Press straight down on to your fabric, angled pressure or rocking the stamp can cause edge imprints.
HEAT SETTING
Once you've created the perfect imprint, you need to heat set it to protect it when the fabric is washed! Give the ink some time to dry before you apply an iron to it. Pigment inks like Versacraft and Memento Luxe benefit from more drying time. Think of heat setting as stopping the ink in it's tracks and giving it a chance to settle into the fabric a little before heat setting. Once dry, apply the iron and hold it in place for as long as it takes to make the fabric too hot to touch. Be sure to follow your fabric guidelines for ironing! I prefer not to slide the iron around while doing this, because then I am certain each part of the imprint gets the same amount of time and heat.
This can be an issue when working with delicate fabrics! There are two techniques you can try. The first is to use a piece of scrap fabric over the delicate fabric. The second is to use a blow dryer for a good 30 seconds.
Some people recommend heat setting in the dryer, but in my experience you can end up with echos of your original imprint on other portions of the fabric if you throw it straight into the dryer.
Remember that nothing lasts forever. Even screenprints and fabric dyes fade and disappear over a long enough time. But, if properly heat set with the right inks, your imprint should last for a long time!
OUR TESTS
Our tests follow! Click the fabric types below to jump to ones you're interested in, or scroll through all of our results below.
Bamboo Lycra (Floral custom): 95% Bamboo, 5% Spandex
Bamboo Spandex (Sage): 95% Bamboo, 5% Spandex
Bamboo Lycra French Terry(custom): 67% Bamboo 28% Cotton 5% Spandex
Bullet: 94% Polyester, 6% Spandex
Cotton Spandex: 95% Cotton, 5% Spandex
Cotton Spandex French Terry (oatmeal): 95% Cotton, 5% Spandex
Cupro Slub (Caramel): 70% Modal, 30% Polyester
Double Brush Polyester: 85% Polyester, 15% Spandex
Euro Organic Cotton Lycra: 95% Organic Cotton, 5% Lycra
Flannel (Light Grey): 100% Cotton
Minky: 100% Polyester
Premium Athletic: 88% Nylon, 12% Spandex
Quick Dry Poly Spandex: 92% Polyester, 8% Spandex
Rayon Spandex: 97% Rayon 3% Spandex
Rayon Spandex French Terry: 95% Rayon 5% Spandex
Rib Knit 1(Grey): 63% Polyester, 30% Rayon, 7% Spandex
Rib Knit 2 (ivory floral): 96% Polyester, 4% Spandex
Rib Knit 3 (mustard floral): 96% Polyester, 4% Spandex
Rib Knit 4( white floral): 87% Polyester, 13% Spandex
Satin Ribbon: 100% Polyester
Scuba Knit (Green): 93% Polyester, 7% Spandex
Triblend Jersey: 63% Polyester, 34% Rayon, 3% Spandex
Twill Tape: 100% Cotton
Viscose Crepe Jersey: 96% Viscose, 4% Spandex
Waffle 1 (white): 100% Polyester